Installation of self-consumption with surpluses in second homes. Isla Plana.
It is becoming increasingly common to see self-consumption installations with surpluses in second homes. The way of understanding these installations is changing and they are no longer considered unprofitable investments as they were a few years ago. The lowering of the costs of some materials and the increasingly abusive prices of electricity make considering a project like this one a very good option. And with an estimated life of more than 25 years for your photovoltaic installation, once you have amortised it, you will still have many years of energy and savings ahead of you.
Who doesn't want to have all the comforts of home at the beach or in the countryside? Running the air conditioning all day long may seem like a small luxury with electricity prices as they are, but with a photovoltaic installation, you can generate all the energy you need without having to pay a single euro more. Self-consumption installations with surpluses not only generate savings in the months when you are not in your second home, but also generate profits. At the end of each month, your supplier will compensate you in your bill an amount of the energy that you are not consuming, so that you will have a small additional saving.
In this installation:
Fronius Primo 3.0 Inverter
Hyundai Hie-Vg 400Wp Panels
Fronius Smart Meter
Peak power: 3200Wp
Average annual production: 5300kWh
With 8 Hyundai 400Wp panels our client in Isla Plana is guaranteed a constant and sufficient supply of energy to feed her consumption in summer and on weekends. During the months of May to August, when solar production is highest, she will be able to generate up to 500kWh per month. In other words, you can keep your freezer full of ice cream or your air conditioning running from early morning until sunset to keep your house cool.
Investing in quality for a second home is essential. Working with leading brands and with a well-made installation, we can ensure the 25 years of useful life of the installation. In this case we installed Hyundai solar panels, which have a special treatment that makes them more resistant to the effect of salt clouds or ammonia. This additional protection guarantees a longer life expectancy for installations close to the sea. Hyundai panels also offer better performance at high temperatures than other panels, making them ideal for installations in Levante and the Costa Cálida.
Self-consumption with surplus in second homes, in pictures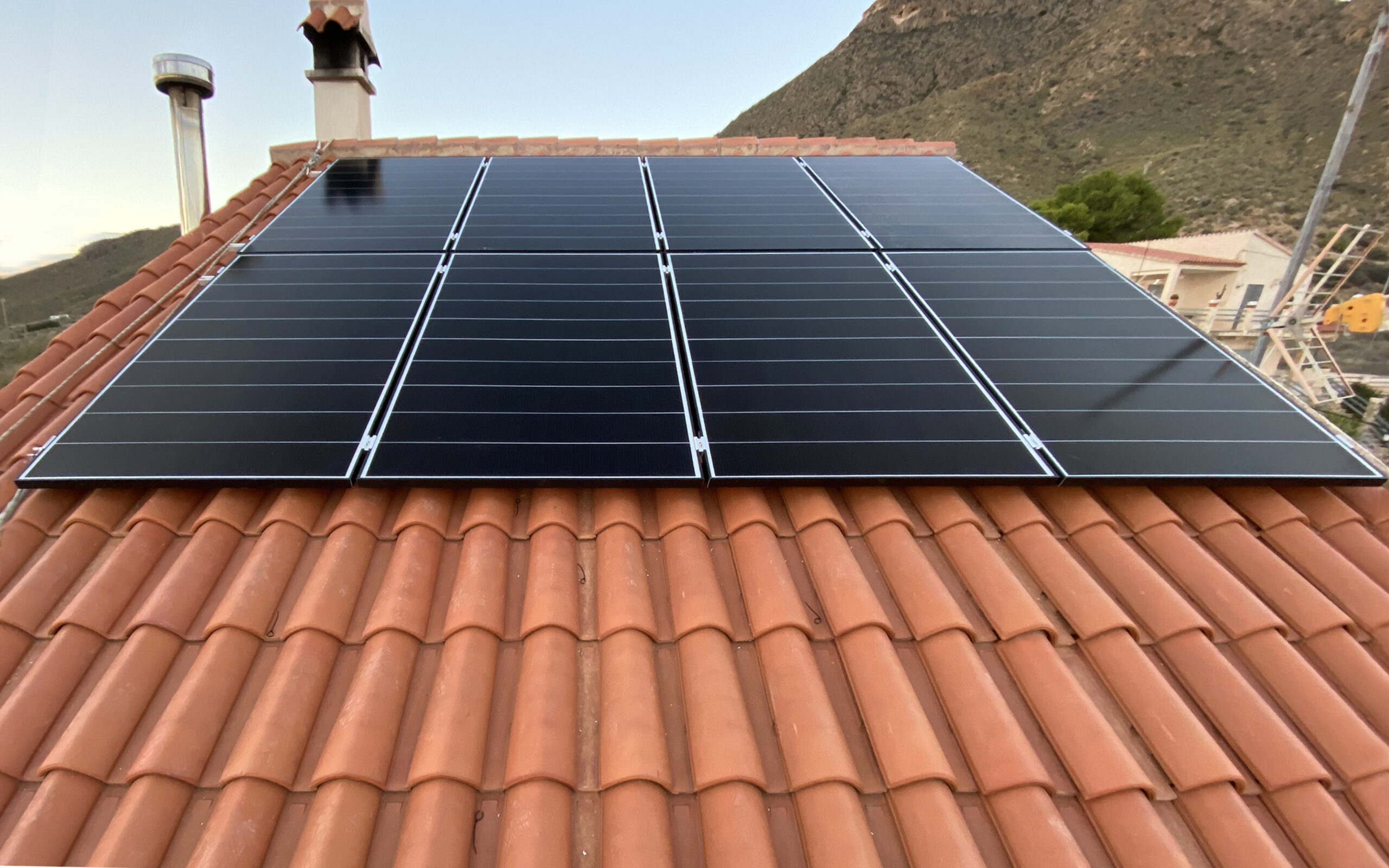 Save money with a self-consumption system with surplus energy in your second home.
In addition to energy savings and surplus compensation, you can save in other ways with your solar panel installation. Some municipalities offer IBI rebates of up to 50% of tax for three years. You can also deduct up to 10% of the installation on your next income tax return.
One of the biggest drawbacks we find in a second home is the contracted power. In order to save a little more on the bill during the periods when we are not there, we lower the power to the minimum, which can be a problem when we arrive and want to plug in too many things at the same time. If we exceed this power level, the automatic switches go off, which ends up being tedious and uncomfortable. With a self-consumption photovoltaic installation, we are spared these problems, as we can add the power generated by the panels to the contracted power. In this way, we can reduce our electricity bill as much as possible without losing the power we use in our home.
Did you like our self-consumption system with surplus for second homes?
If you are thinking of switching to self-consumption like our Isla Plana client, but have doubts about how to do it, please contact us and we will be happy to guide you through the whole process.
If you already know that you want to install solar panels, ask us for a no obligation quote! We are expert installers with years of experience and official service for trusted brands such as Fronius y Victron.