Installation of solar panels with BYD HVS 2.56 kWh batteries in Torrevieja
Another example of work done: Having a photovoltaic system with BYD HVS 2.56 kWh batteries adds a new dimension of savings and independence to your home. The batteries store the surplus energy generated during the day so that you can use it at night, so that you end up consuming as little as possible from the grid and increase your level of self-consumption and, above all, your bill savings.
B&D Batteries for Fronius HVS 2.56 kWh in Torrevieja (Alicante)
ByD is one of the leading manufacturers of batteries and electric mobility solutions. It has a range of high-voltage lithium batteries designed to offer a simple and elegant energy storage solution for photovoltaic installations. Battery-BOX Premium batteries are available in two high voltage models: HVS and HVM, with the main difference between the two being their working voltage. HVS batteries work at 100v and can reach up to 500v, while HVM batteries work at 50v and can reach up to 450v.
In the case of our customer in Torrevieja, we installed two ByD HVS 2.56 kWh batteries for a total capacity of 5.12 kWh. BYD batteries offer a modular solution, so the range of capacity you can have is very wide. Each battery tower consists of a minimum of 2 modules and a maximum of 5 modules.
You can upgrade your BYD battery system as your energy needs grow. Depending on the inverter to be installed, up to three 5-module towers (HVS) may be used. This will allow you to reach up to 38,4 kWh. It is important to note that in order to install towers in parallel, all of them must have the same number of modules and that it is not possible to mix HVS and HVM modules.

Installation of solar panels with BYD HVS 2.56 batteries on flat roof in Torrevieja (Alicante), in pictures: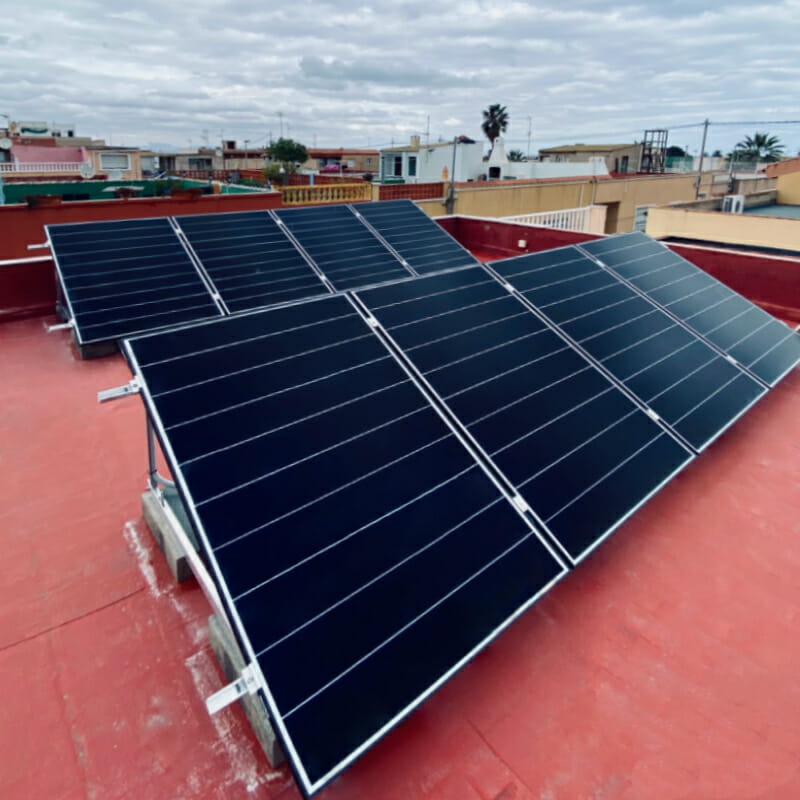 Our customer in Torrevieja (Alicante), with an average monthly consumption of 300 kWh, wanted to have an installation that not only fed his daily consumption, but could also cover his night-time consumption, in order to maximise his independence from the electricity grid.
With that in mind, we sized their installation so that the production of their panels would cover their consumption and there would be a surplus to charge the batteries. We installed 8 Hyundai 400W panels on their flat roof for a peak power of 3200W. The inverter we chose was the Fronius Primo GEN24 4.0A hybrid unit with a nominal power of 4kW so that our customer has the possibility of increasing the power installed in panels in the event of increased consumption, for example, with the installation of a charging point for an electric car. Among the many advantages of the GEN24 inverters is the possibility of quick and easy integration of third-party components, such as BYD HVS 2.56 kWh batteries. This means that, with just one device, you have all the advantages of a grid-connected inverter and a battery charger.
Do you want to install solar panels in your home in Torrevieja (Alicante)?
If you have in mind to install solar panels for your home in Torrevieja, please contact us and we will be happy to guide you through the whole process.
If you are sure you want to install solar panels, ask us for a free quote! We are expert installers with more than ten years of experience and Official Technical Service of trusted brands such as Fronius y Victron.