Installation for self-consumption with Fronius GEN24 5kW hybrid inverter and 10 Jinko 460Wp solar panels in Los Barreros, Cartagena.
This installation of solar panels for self-consumption in Cartagena was designed in such a way that our client could expand it with lithium batteries in the future as their consumption needs increased. We installed 10 Jinko Solar Tiger 460Wp solar panels and one of the new hybrid inverters from Fronius, the GEN24 Primo 5.0. This inverter is the best solution for a flexible supply of solar energy, as it can be integrated into systems for storage, emergency power, air conditioning, electric mobility, etc.
By switching to self-consumption, our customer will no longer be dependent on fluctuations in the electricity market and its constant price rises and will be able to save up to 75% on their electricity bill every month. With these savings, he will amortise his investment in less than eight years, gaining in return a series of benefits that I would not otherwise have: Independence from the electricity market, access to a sustainable and efficient energy source and reduction of its carbon footprint.
This installation was mounted on the client's existing pergola on his terrace. The pergola had a good slope and a south east orientation, so no additional structures or lifting was required. We mounted a coplanar structure on top of the tile, with all the screwed anchors finished with EPDM rubber washers and sealed with a chemical block to guarantee the watertightness of the installation and thus avoid the appearance of leaks in the future.
For this family we installed ten panels from Jinko Solar, a brand with decades of presence in the photovoltaic market and synonymous with guarantee and reliability. These 460Wp panels will guarantee a photovoltaic production more than enough to supply the average consumption of a family throughout the year and provide a great monthly saving in electricity.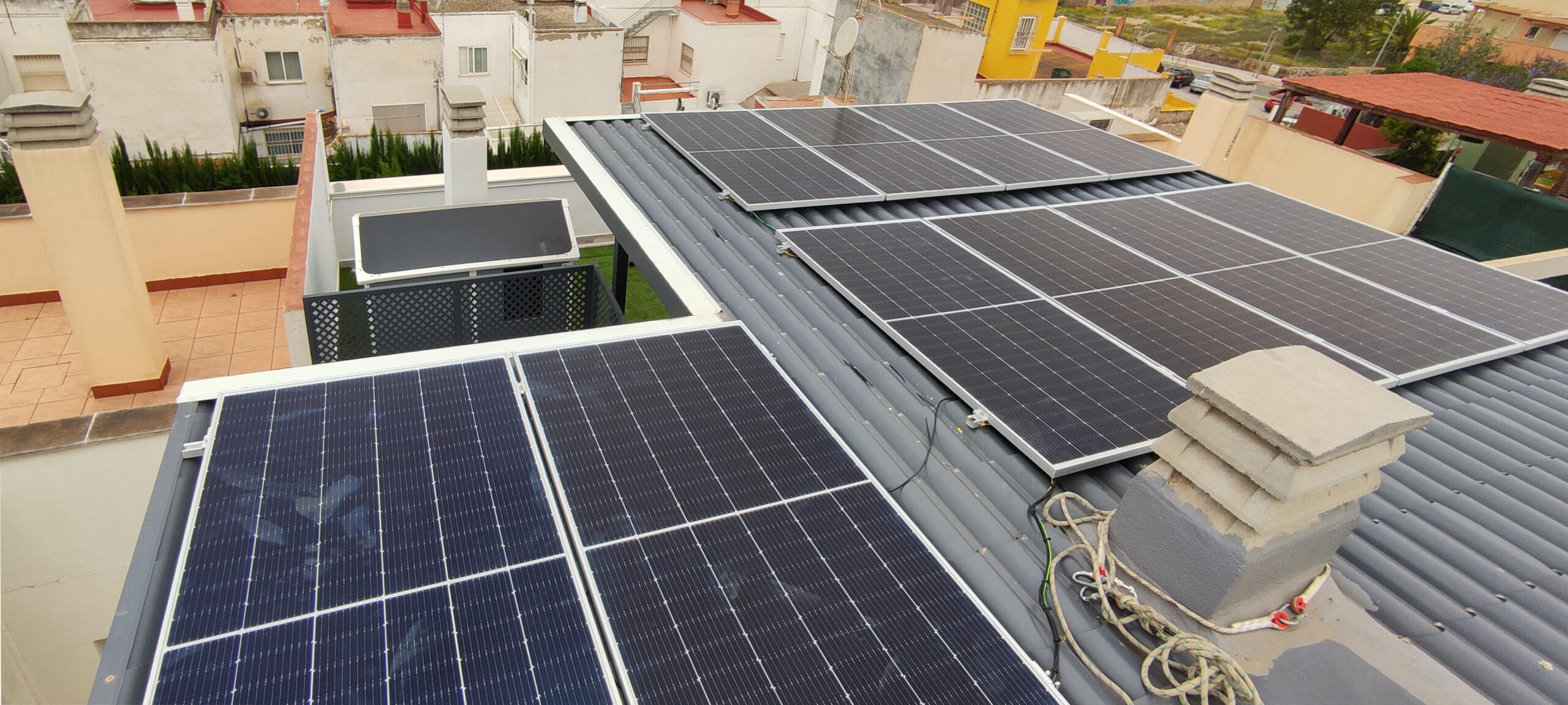 Which inverter do we install?
At the heart of the system we installed a Fronius GEN24 5.0. With this inverter the energy integration of the house is assured, with an indispensable element that transforms the energy from the solar panels into electricity suitable for all types of household appliances, water heaters or charging points for the new electric vehicles. The GEN24 Plus series integrates perfectly with a dedicated monitoring and control system with which the customer has access to his installation from anywhere with real time data thanks to Solar.web. App available for Android and Apple.
The GEN24 inverter is designed to high quality standards and is specifically designed for grid-connected installations with lithium battery storage. Fronius inverters have a zero grid feed-in system, which means that they can control the amount of energy that is fed into the grid when it is not being consumed or stored in the batteries.  
To complete this solar panel installation in Cartagena, a single-phase Smart Meter was added, a bi-directional meter that optimises self-consumption and records the consumption curve of the house. Thanks to high-precision metering and fast communication via the Modbus RTU interface, remote power limitation, when limits are imposed, is faster and more accurate. Together with the Fronius Solar.web smartphone app, a detailed overview of the consumption in the household is possible.
As you can see, at ICIDE we always do the following aesthetically clean and top-quality installationsThe cables are secured to the wall at regular intervals to ensure that they are held in place and the bends are kept at the ideal opening angles to prevent wear and tear on the wiring.
Need help?
If you have in mind to switch to self-consumption as our customer of the installation in Los Barreros, but you have doubts about how to do it, please contact us and we will be happy to guide you through the whole process.
If you already know that you want to install solar panels, ask us for a no obligation quote! We are expert installers with years of experience and official service for trusted brands such as Fronius y Victron.