Installation of solar panels on an east-west facing roof in Canteras.
The most common solar panel installations are on pitched roofs, with orientations ranging from south to east-west variations. This is the most common type of roof for single-family homes, although this does not mean that photovoltaic panels can be installed on any other type of roof. Each construction has its own particular properties and it is important to carry out a preliminary study to determine its viability. Not all roof tiles can be perforated and not all structures can support the same weight. It must be ensured that the roof and its supporting substructure are designed to support the additional weight of the solar panels. An improperly planned installation could lead to leaks or, worse, could even cause the roof to collapse.
Once it has been concluded that the roof is viable, one can proceed to determine how to lay the panels. This is an important step because depending on the orientation of the roof and its inclination, you will have a higher or lower yield. The ideal orientation for a panel installation is south. Facing south, the solar panels will receive more irradiance, so their production will be higher. But if your roof is not perfectly oriented to the south, no problem, it will still be productive. A deviation of up to 45º to the south only means a 1-3% decrease in production, so you will still save hundreds of euros per year.
In this installation:
Fronius Primo 4.0 Inverter
Jinko Solar Tiger 460Wp Panels
Fronius Smart Meter
Peak power: 4600Wp
Average annual production: 7800kWh
Installations like this one we made for our client in Canteras, with an east-west orientation, have a number of characteristics of their own. For example, they can be much better adjusted to the consumption habits of the clients. With a south orientation, the highest energy production occurs in the middle of the day, when the sun is at its highest. However, east-facing ones have their peak production in the morning and west-facing ones produce more energy in the afternoon. If you work all day, do not eat at home, and your highest consumption is in the mornings or evenings, an east-west orientation would better suit the way you consume energy, so you would have greater savings.
With five panels on each side of the roof and a Fronius Primo 4.0 inverter managing the power generation, our customer is assured of a constant source of electricity and savings. In addition, thanks to the Fronius Smart Meter that we have installed, he will be able to monitor the output of his panels, the energy flows and his consumption curve at all times. Together with the Fronius Solar.webWith this system, you can have a complete and detailed overview of your photovoltaic system at any time, no matter where you are.
Installation of solar panels on east-west facing roof, in pictures: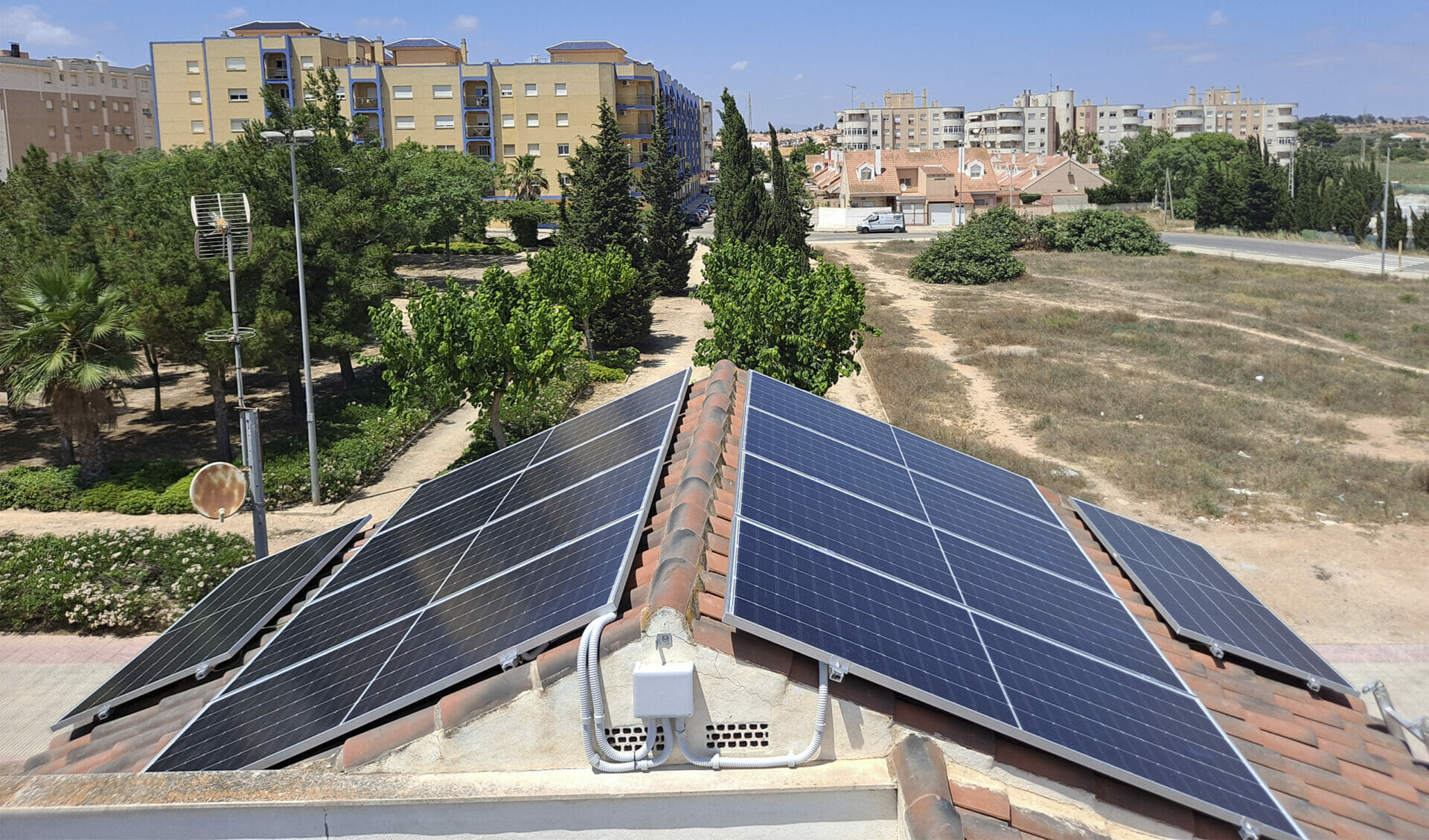 Save money by installing solar panels on your east-west facing roof.
As we have already mentioned, an installation on an east-west facing roof offers certain advantages over south facing roofs. If your consumption peaks, due to your work schedules, are in the early morning and late afternoon, an installation with this orientation would be the most cost-effective option for you. West-facing panels will produce up to 45% more than south-facing panels during the late afternoon.
In addition to what you can save directly by not consuming electricity from the grid, your supplier will compensate you at the end of the month for the surplus energy you have dumped, which will give you a small extra saving every month.
And as if that were not enough, some local councils offer discounts on IBI and ICIO for the installation of solar panels, so we advise you to contact your local administration to find out more about the bonuses and discounts that you may be eligible for.
Do you have an east-west facing roof and want to install solar panels?
If your roof is east west facing and you have in mind to do an installation like our client in Canteras, please contact us and we will be happy to guide you through the whole process.
If you are sure you want to install solar panels, ask us for a free quote! We are expert installers with years of experience and official service of trusted brands such as Fronius y Victron.