Off-grid installation in Albox, Almeria, with Victron Multiplus II 5000VA inverter and 8 Jinko Solar Tiger 460W panels.
Without a doubt, the best option for an off-grid house, such as that of our client in Albox, is a photovoltaic installation with a Victron Multiplus II 5000VA system. Within the wide range of existing alternatives, it is by far the most cost-effective, sustainable and convenient. Compared to the bulky, noisy and polluting fuel generators, whose tanks have to be constantly filled and which generate a large amount of pollutants and constant noise, a solar panel installation generates clean energy, is totally silent and requires minimum maintenance.
For this reason, our customer from Albox, who has a country house in the mountains near the Almanzora Valley, has decided to go solar in order to have clean and free energy right from the start.
What equipment do we install in this detached house?
The installation has a total of 12 Jinko Solar Tiger 460W solar panels to generate a peak and hourly power of 5.5KW. These panels are among the best on the market and have repeatedly won international awards, ranking among the top brands in the industry in terms of efficiency and lifetime.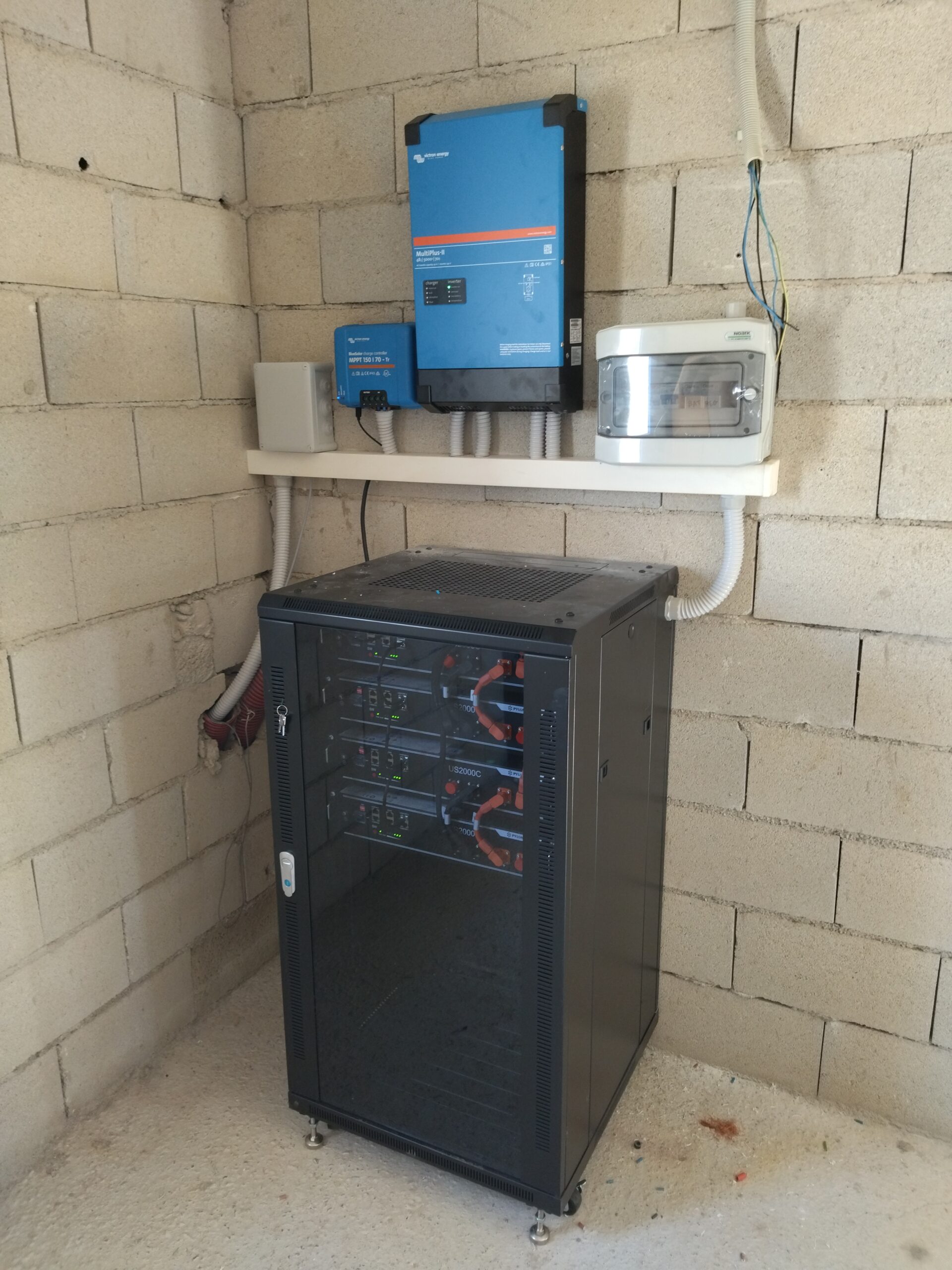 The equipment we installed in this detached house is from the Dutch manufacturer Victron, a company specialising in photovoltaics with a decades-long presence in the solar energy market. The inverter, a Multiplus II 5000VAThe DC generator, which acts as the heart of the entire installation and converts the direct current generated in the panels into alternating current for everyday use. We also installed a BlueSolar MPPT Controller to get the most out of the solar panels and thus maintain an efficient and stable production. We complete the installation with a Venus GX monitoring system so that the customer can monitor, supervise and control the status of their installation at all times from their smartphone thanks to the victron.connect app. Thus, in a convenient and simple way, you can control the production of the solar panels, how much energy is being consumed in your home, what state the batteries are in, what their charge level is, etc.
To store the energy, the customer opted for solar batteries of Pylontech. These batteries are widely used in both the domestic and industrial sectors due to their versatility, reliability and long life. To protect the batteries, we installed them inside a reinforced rack cabinet, with a glass door, so that the customer had easy access to the batteries at all times.
As you can see, at ICIDE we always do the following aesthetically clean and top-quality installationsThe cables are secured to the wall at regular intervals to ensure that they are held in place and the bends are kept at the ideal opening angles to prevent wear and tear on the wiring.
Did you like our Victron Multiplus II 5000VA stand-alone system?
If you are thinking of switching to self-consumption like our client in Albox, but have doubts about how to do it, please contact us and we will be happy to guide you through the whole process.
If you already know that you want to install solar panels, ask us for a no obligation quote! We are expert installers with years of experience and official service for trusted brands such as Fronius y Victron.